Light Arm Rest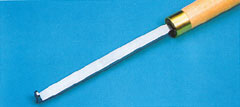 This tool, developed in conjunction with the well-known British woodturner Bill Jones, is an additional tool rest to aid working at the face, boring, hollow turning and inside screw cutting with hand chasers. The blade is 6" 152mm long. Walleted as standard.
Armrest, 12 1/2" 317mm Beech, Handle
* Available walleted at extra cost
# Available with handguard at extra cost
Crown Hand Tools Ltd. are pleased to respond to all wholesale/retail enquiries.
For private orders please see your nearest stockist.