Dovetail Scraper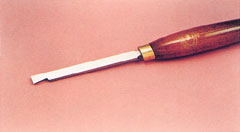 This tool is specially designed for making accurate recesses to accommodate the jaws of an expanding Dovetail Chuck.
Dovetail, 8 1/2" 216mm Handle
* Available walleted at extra cost
# Available with handguard at extra cost
Crown Hand Tools Ltd. are pleased to respond to all wholesale/retail enquiries.
For private orders please see your nearest stockist.